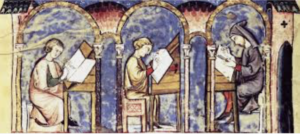 Welcome to the College of Scribes
The College of Scribes is made up of all the Calligraphers and Illuminators in Caid who work on the production of Award Scrolls. If you would like to join the College of Scribes, please drop a note to the Scribe Armarius, and sign up for the Scribes List on Yahoo at caidscribes-subscribe@yahoogroups.com or join the more active Caid College of Scribes Facebook Group.
The Scribe Armarius is responsible for overseeing the production and distribution of award scrolls by volunteer scribes kingdom-wide, and to encourage the study of scribal arts in Caid. This website aims to provide information and resources to help accomplish these goals.
In Caid, award scrolls are produced by request only. Many awards are issued by our Monarchs each month and not every award recipient is interested in receiving a hand-made scroll, so we do not automatically create a scroll for every award given. If you would like to receive a scroll for an award you were given in Caid, please contact the Scroll Assignment Deputy to ask for your award to be added to the Queue. An award scroll can be produced for any award which conveys precedence and has a standard text. Most award scrolls require the recipient to have passed a name and device. The production of a scroll may take some time, depending on the schedule of the scribe who has taken the assignment, so please be aware that there is not a quick turnaround time from request to finished scroll presentation. Finished Scrolls are usually presented at the stepping down court at each Coronation and at Twelfth Night.
Suggestions, Comments or Changes to this web site can be entered Here!